CFCE Playgroup
Wednesday Mornings at 10:30 am / 1st Wednesday of the Month at 3:30 pm
Wednesday mornings at 10:00am we host Dana from the Coordinated Family Community Engagement Program who presents a fun filled program with stories, games, circle time, music & more for children from birth to 5. Older siblings are always welcome to attend to. Watch the library website for what the weekly theme will be. Weather permitting the playgroup is held outside on the library lawn.
Monthly Teen Takeaways
Subscription Box
Teens (ages 11 through HS) sign up for our new subscription box service! Each month will have a new craft, plus some other goodies. No virtual meetings needed! Relaxing and fun! Sign up once and receive each month's box! No monthly meetings or online meetings! Craft on your own time with no pressure or stress! This month's Teen Takeaway features sand clay!
Got WiFi? The library does and we're lending it out!
Borrow one of our new mobile hotspots for Internet service on the go. These small devices create a WiFi signal you can connect your device to. Hotspots can be borrowed for 3 weeks and must be checked out on an adult's card.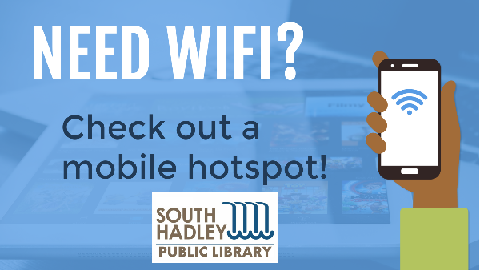 Online Author Events!
Bringing you a range of talks from best selling authors and thought leaders,
Upcoming Speakers
Need a library card?
New to town? New to the library?
You can fill out our online library card application by clicking here!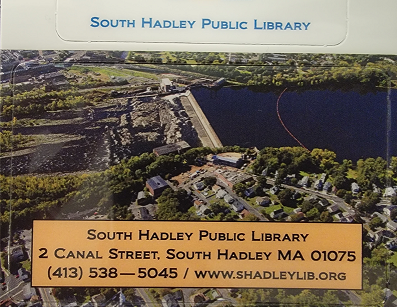 The Library Mission Statement
New Strategic Plan FY2022 - 2026
South Hadley Public Library serves as a safe community gathering space where all library patrons are welcomed with dignity and respect. The library's collections, programs, and services will reflect both the town of South Hadley and the world at large. The library will collaborate with community partners to provide a comfortable environment that is reflective and responsive to the recreational, educational, and cultural needs of our library users.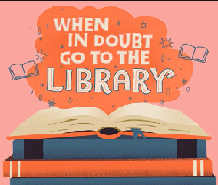 What's new at the library?