Wed., January 19 at 6:30 PM
Intro to Using Libby: E-Materials at Your Fingertips
Learn how to use Libby to access E-Books, E-Magazines, E-Videos, and access to programs like Craftsy, the Gret Courses, indieflix, and Quello. Can be watched via Zoom. Please email dsmelcer@cwmars.org or call 413-538-5045 and speak with Desi.
Chemistry Adventure Returns!
Call or Stop In to Sign Up!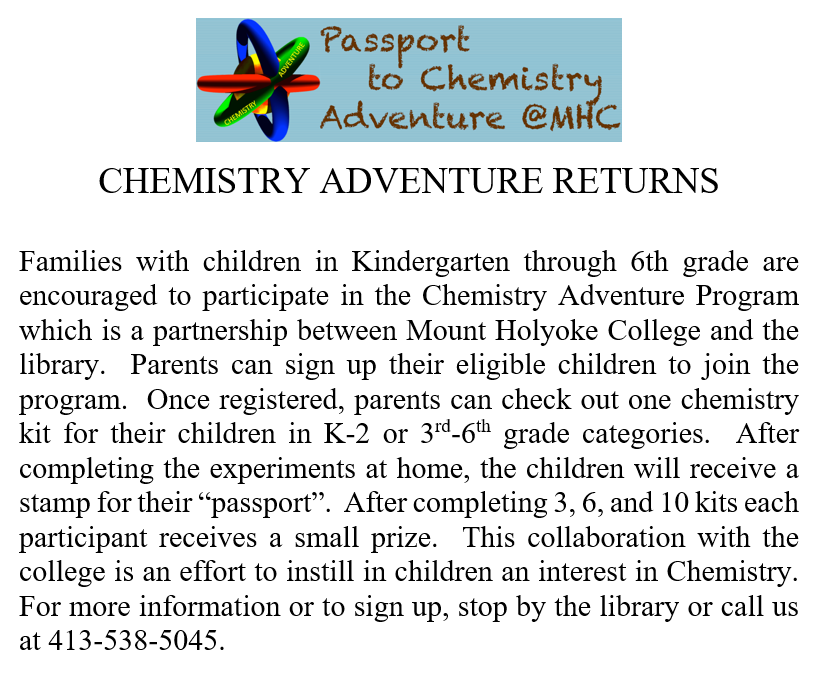 Got WiFi? The library does and we're lending it out!
Borrow one of our new mobile hotspots for Internet service on the go. These small devices create a WiFi signal you can connect your device to. Hotspots can be borrowed for 3 weeks and must be checked out on an adult's card.
Teen Program: Cardboard Snowflakes on Wed., Jan, 26 at 3:30 PM
Ages 11 on Up - No Sign Up Needed
Need a library card?
New to town? New to the library?
You can fill out our online library card application by clicking here!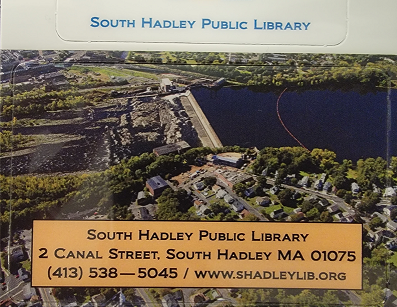 Library Mission Statement
from our new Strategic Plan FY2022 - 2026
South Hadley Public Library serves as a safe community gathering space where all library patrons are welcomed with dignity and respect. The library's collections, programs, and services will reflect both the town of South Hadley and the world at large. The library will collaborate with community partners to provide a comfortable environment that is reflective and responsive to the recreational, educational, and cultural needs of our library users.
Gaylord Memorial Library
The Gaylord Memorial Library, right across from Mount Holyoke College, is a branch of the South Hadley Public Library and offers full library services in a historic setting near the Village Commons and town center.
Homebound Delivery for Residents
Services provided via the Gaylord Memorial Library
Our homebound service is accepting new applications from South Hadley residents who have health or transportation issues that keep them from the library. Materials are selected and delivered by library staff on a monthly basis. Homebound delivery recipients must be home or have a household member available to receive the contactless delivery at the scheduled date/time. Interested residents may print out or fill out an online application or call the Gaylord Library at 413-538-5047 to register.
What's new at the library?